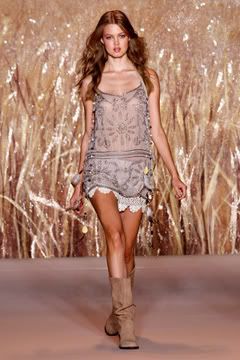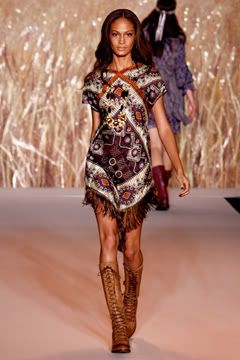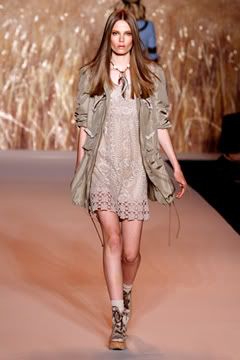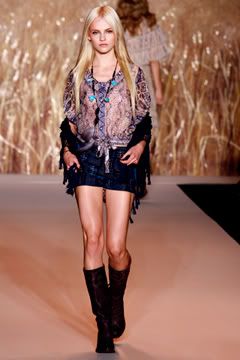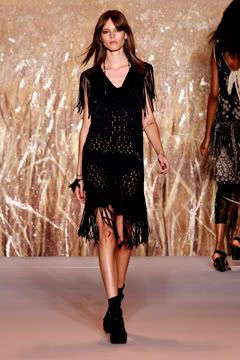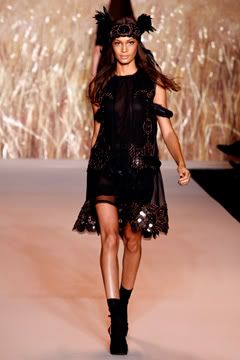 Anna Sui S/S 11. I love this designer. She has an amazing style that I could totally wear. I love the paisley and the lace, and the patchwork quilt effect. But whats great about this collection is that it doesn't come off like a country-esque. The beautiful aspects are the feathers, the turquoise, the pale, pale pink [?] shifts. It looks like something you could slip on for summer nights that are swelteringly hot. Or just wear over jeans when its raining here in Washington, which if you didn't know happens A LOT.

I love the Indian/ Native American style. If I had more money in my wallet then a dollar, the fourth dress would be miiiiiiiinnnneee. Instead I'll settle for finding some cute feather earrings that cost less then $100.
Did anyone else freak out a little bit when they saw the moving model pictures on style.com? My best friend was a little creeped out when I was watched the same one walk over...and over..and over again. Personally I thought that was pretty ingenious.
I'm in need of a Diet Coke and the new copy of Nylon. Will get back to you <3>
Frivolous